More business.  Everyone is always looking for ways to make more money, and you do that by obviously bringing in more business.  If you are like me, you often wonder if you could be doing more.  The easy answer to that question is YES!  There is always a million other things you can do to bring in more business. It all depends on what kind of business it is that you are running.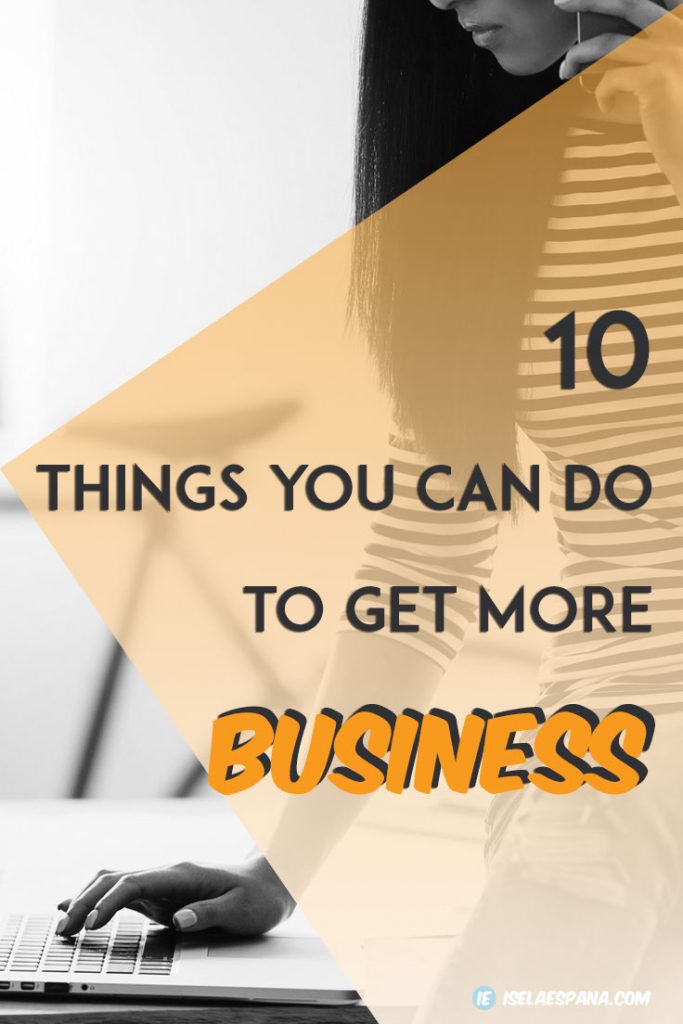 No matter the kind of business, I have rounded up 10 things you can do to get more business.
1. Generate a Buzz around your Business, Here is how.
No matter what type of business you are running, Facebook is still one of the highest contenders in Marketing.  The problem with this is that many do not know how to even get started marketing their business on social media.  I mean, most businesses can figure out how to open a Facebook business account and upload a picture, but then what?
Facebook Marketing – There are numerous ways to market your business on Facebook, but you have to get Followed on Facebook to actually get people to see your content.  How do you get more likes? There are a ton of ways to do so that are not unethical.  Here are a few examples:
Add your Facebook handle or url to everything.

Receipts
Flyers
Websites
Decals
Promotional Products like mugs, shirts, bags

If you have a brick and mortar, making a sign that is visible to your customers is a great idea… maybe on your window or counter top
If you have a restaurant, bar, or entertainment spot consider making a selfie background and add a personalized #hashtag.  This works well at department stores, you may have seen them in the dressing room mirrors.
Make a contest or giveaway and ask to follow you on Facebook to find out who wins.
Create a grand opening event, even if it's been a while and hand out your Facebook info.
To find out what your Facebook url is, all you have to do is visit your page and look at the top of your browser and copy the url, for instance mine is https://www.facebook.com/sweetpapertrail
Facebook also offers many options to get your page found.  It does comes with a price though, but the good news is that it usually is very affordable!  Look into these Facebook options.
Promote your Facebook Page
Targeting Customers
There are actually many ways to get new followers but sitting on your butt and waiting to get them is not one of them.  Make sure not to abandon other social media outlets.  Instagram and twitter have proven to be effective as well.  The only problem with this is that you can really get caught up in social media, distracted even, and taken away from actually working.  Best bet is to plan your social media strategy.  Focus on one outlet at a time, maybe schedule 1 hour a day and divide your efforts between each social media outlet.   Once your business has grown and you have the income to hire someone to take care of your social media accounts, it should really be considered.
2. Freebies
Yeah, I know what you are thinking.  How is losing money on freebies going to bring me more business?  Well here is the easy answer.  How many times have you been to a grocery store where they offer a free tasting of something and you end up loving it and buying it?  If you hadn't tried it, you would have never even considered it.  It happens all the time.  This works well with any business.  I have offered a variety of freebies that have not only brought buzz to my business in traffic, but It has brought me a ton of sales.  People see how I take pride in my design work and know I am offering a high quality product.  I stand behind my work!
I have worked with restaurants that have offered samples and it has generated a tremendous amount of business. It works!
3 . Focus on Customer Service – The Customer is always right, or are they?
You might be asking how customer service brings in more business. Well, it does.  Nothing works better than word of mouth. So a positive experience is something to strive for.  So It's time to look at your customer service issues. All businesses have to deal with customer service, and you know how the saying go's, the customer is always right, or are they?
Yes, the customer is always right per-se, but it's actually in the details.  Reviews can be the downfall of a business so focusing on customer service is always a must.  The good news, it can be pretty easy, the bad news, there is always that one grumpy customer.
How I deal with it –
I make my shop policies very clear.  There are no returns on my products.  Sound harsh?  Well the truth is that in my line of business there are many trying to rip off my designs.  Don't get me wrong I stand behind my product 100% so I make my product descriptions very clear and concise.  I will do my best to make every customer 100% happy with their purchase.  Truth be told, it is the customers responsibility to read thru all of the description and know exactly what they are buying.  Now does this work with every business?  Of-course not. Let's take a look at what could be good alternatives for other types of businesses.
Returns – Offer in-house returns & exchanges.  If they just don't want to deal with your business at all, sometimes it is just better to return them their money then to deal with negative reviews.
Make-it-right-policy – Have you been to Starbucks lately?  I haven't seen many ask for their money returned, but I have seen people ask if they could get their drink switched or made right.
Refunds – Sometimes people are having a bad day and choose to take it out on us. Let's face it.  Refunds are still an option for service-oriented businesses, even though there is no product to resell.  Again it keeps bad reviews away.
Per-customer basis – Just like it states, deal with each situation individually.  Most of the time it works pretty well.  Make sure to be calm and collected when dealing with customers.  Don't take negativity and feedback personally.  Remember most of the time when someone is being harsh or aggressive it is just a reflection of their personal life.
Whatever your policies might be, make sure to have them clearly posted.
4. The Up-sell
I know you hate to up-sell.  You don't want to be that pushy salesman but guess what, up-selling most of time is just offering another product that you have that most of the time the customer has no idea you have to offer.  You want more business, right?
Here is an example :
– Plumber visits your house to clear out a blocked drain.  After he is done you pay him and he leaves. Sounds familiar right?
– Plumber visits your house to clear out a blocked drain.  After he is done he asks if there is any other problems you might have and asks if he can perform a free home inspection of the rest of the plumbing.  While he is performing it, you see he is looking at your clothing washer connections and asks if your hot water is working well when you wash, you answer no.  You had forgotten that you had an issue with your washer and actually did not know if a plumber performed that kind of job in the first place. The plumber lands another job.
In these examples you can see that by not offering a free home inspection the plumber is actually giving you a disservice by leaving your home with a faulty washer.
As a business, you need to be secure about what you have to offer and stand behind your business.
5. I Blog
Duh.  Blogging brings me business. It can for you too!  No matter what you sell. Blogging totally works.  Unless you have a dry cleaning business, or does it? YES!! It works for you too!  Let's brainstorm together on things you can write about shall we?
Dry Cleaning:
How to get stains out of ___________
What you should dry clean.
How to choose the right fabric.
Local events
How to build a drying rack ( get creative )
Stain guide
Make your own laundry soap
Storage ideas
How to iron
How to pack your clothing
Behind the scenes look at your process
The history of___________
You get the idea?  All you have to do is brainstorm and plan it out.
Need a Blog Planner? See what I did there? 😉
Wondering how blogging works for you?  Well here is another list for you.
It makes you a trusted authority in your field
It helps with SEO – Placement on search engines like Google.
It gets people visiting your website where you obviously have advertisements.
Customer Follow-up and input
You get an audience
Tells your business story
Gives you an opportunity to go viral
Keeps your website updated and fresh
It makes people realize that there is a person behind the business
Build interest
Gives you the ability to share changes and get press releases
6.  Gather Email Addresses
This one is very interesting.  Why do I gather email addresses?  Well for many reasons. Social media is hot and all but we never know when a particular social media site is no longer going to be the "it" thing.   By gathering email addresses you have a way to communicate with your customers, provide special offers, news, and new products, all of this equals to more business.  Just make sure to let your customers know you will never share their information. No one likes a spammy business.
7.  Throw a Party
Not only is this option fun but it also gives you the opportunity to get a lot of business.  You don't have to throw the house out the window.  You can offer appetizers and cocktails and strategically either place your items or your offerings at your party or even offer a raffle.  Make sure to pass out promotional material like business cards, t-shirts and such to keep the buzz going way after the party is over.
8.  Make a video
This is on my to-do list.  This is a great tool to share on your website, email and social media accounts.  Create an awesome video that gets people to you.  Wondering what to make a video about?  Remember that brainstorm list we created (#5),  we will use the same method to come up with video ideas.  We will use these videos to get traffic and lot's of it.  It is one of the best ways to generate loads of traffic, and since so many are terrified in creating them it is not so saturated up in the top.  Best kind of video I think is a behind the scenes look or something funny.  Just do it!
9. Live Chat
This one is second on my to do list.  A Live Chat.  There is 2 parts in accomplishing this.  First is to get people excited about you going live and second is to answer all the questions in a positive light.
Whether it is on Twitter using a hashtag,  or on Facebook every Tuesday.  Give your customers the ability to ask questions without seeking anything in return.  You will build trust and professionalism by providing "free" help or answers.
Who's the pro now? 🙂
10. Referrals and Customer Loyalty
I haven't really figured this one out yet for my business, but I know how great referrals work for service providers that I need to find a way to make it work for me.  Not only are your recognizing your customers power to influence your business but you can also express your appreciation while asking for a referral. This could be with a simple phone call, email, or even better,  a handwritten note.  You can also let your customer know their referral is appreciated in your email signature.
There you have it, 10 Things to do to get more business. What works best for you?  Have you tried any of these methods?