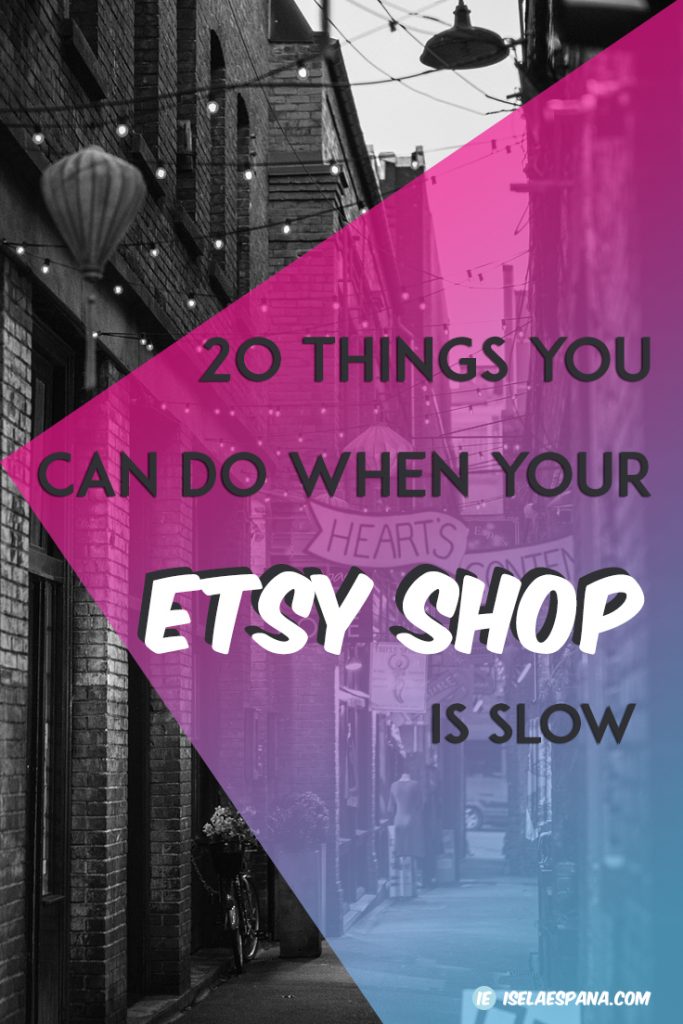 YOUR ETSY SHOP IS SLOW
If you ended up here it's probably because you are feeling like your shop is stuck in a rut.  Maybe you're getting tons of views and likes on your listings but not enough purchases.  Maybe you are just looking for ways to bring in more business.Your Etsy Shop is slow.  We have all been there.
Your Etsy Shop is slow.  We have all been there.
Well, this list is for those days.  The days where you feel like you don't have much to do for your business.
Pin it for "those days"!
Write A Business Plan
You heard that right, create an Etsy Business Plan.  Define who your customer is, what your costs are, how much you need to make to come out even and so on.  It's the only way to track success! There is no need to create a full-blown business plan, but the more detailed you are the easier it will be for you to track your successes.
Showcase Reviews
Build trust and credibility of your shop and listings by sharing your reviews on Twitter and Facebook.
Update Listing Photos
If there is one thing you should definitely be checking on your down time, it's your listing photos.  You only have a couple of seconds to capture a prospective buyer's attention, and as they say, "A picture is worth a thousand words."
Fancy Up Your Listing Descriptions
Coming from a designer background and having a bit of O.C.D. this to-do is right up my alley.  Ok, so you got your descriptions down but how does it look?  Maybe you have not thought of this before but you can make your listing descriptions look a little more "put together" by adding a little bit of spacing and using dashes. Check out how I make my listings a little cleaner and visibly appealing. Oh yeah, one more thing. Add your social media info to the bottom of every listing!
Start A Blog
If you haven't done so already, you need to start blogging! Why? Well, there is so many reasons why you should blog for your Etsy shop. Unfortunately, that requires a whole other post, but what I will tell you is that most of my business comes from blog posts showcasing my listing items.  I have a whole website & blog dedicated to my Etsy shop where I only cover relevant topics associated with my Etsy Listings.  Trust me when I say, although it takes more work, it pays off.
Invest In Your Business
"Isela, what do you mean?  I invest blood, sweat, and tears into my business!"
Yes, I know, but ask yourself, "What is the one thing I can do to boost my shop?"  Maybe you need a better camera, maybe you need to freshen up your skills in social media or your craft.  Whatever it is, make a plan, save up, and invest when you are ready.
Create A FAQ's Section For Your Shop
You are so going to thank me for this one.  If you read my Interview with Emma Barnes from Wild Fawn Jewellery, I covered how awesome I thought it was that she added a FAQ's section in her Etsy Shop.  It is seriously something I am planning to add to my shop as soon as I get a chance.
Create Snippets For Quick Responses On The Etsy App
Do you use the Etsy App to conduct business on the go?  If you do, there is this very awesome trick that can save you tons of time.  Snippets. The Snippets tool helps you quickly respond to conversations by storing your most commonly used responses for frequently asked questions.  For example, if you are constantly being asked if you sell X item. You can set up a response that says:
Thank you for  your interest.  I currently do not have X item for sale, I do however have X item.
Then, when you neet it, you just select it and press send.
Get A Business Email Address – Organize Your Inbox
To be taken as a legit business, you need to act like one.  Get yourself an email dedicated to your business and linked to your smartphone.  Get back to your customers in a timely manner by getting an alert as soon as you get an email.
Organize your inbox to create a more seamless workflow.  Set folders for common items.
Create A Creative Business Workflow
Talking about a workflow, what does yours look like?  Do you have one set up, or are you all over the place?  If you are looking to keep everything organized and in one place, Asana is pretty awesome and It's free.
Check Your Analytics
Etsy has analytics built into your Dashboard.  To access Shop Stats, sign in and go to Your shop > Quick links > Stats. To check your promoted listing analytics, from your dashboard – Click on promoted listings>>
Then you have two options to pick from: Search term analytics and revenue analytics
To get a more in-depth look at your analytics, use Google Analytics to track your business.
Start Pinning
If your already doing so clean up your boards.
Do you remember how I told you that blogging is what brings me the most business?  Well, there is actually a customer buying process that happens without them really knowing it.  This is what it looks like visually.
Pinterest is by far the best buyer referral source for my shop.  If you have not tapped in to it's super powers, you need to start today.
Plan Out Your Instagram Posts
If you are looking to step up your Instagram game, check out a tool like Planoly.  You can plan, schedule, analyze and manage your Instagram account.
Rethink Your Listing Titles And Tags
When was the last time you checked out your Etsy listing titles and tags?  Are they pulling in traffic?  Is the wording right?  How would you search for your item?  Take a look, research, and edit accordingly.
Participate In Facebook Communities Or Not.
It's a hit or miss with Fb groups.  I must admit, I am a member of a handful of communities. They are not actually what I am hoping they would be, but every once and a while I learn something new.  More often, I genuinely offer a suggestion or tip.  I actually started my own Fb Group "Club Etsy" because many groups out there just lacked luster.
Brainstorm Session
My favorite one of the bunch.  An old fashioned Brainstorm Session.  What do you brainstorm about?  New items, tags, titles, blog posts, other sources of income, marketing ideas, and so on.
Take Professional Photos – Update All Your Media Outlets
Pictures are what sell your items.  Your customers cannot touch your items, they cannot feel the materials and the quality.  Your pictures need to show EVERYTHING.  What picture is usually the one they see the most?  YOURS! You need to be the face of your business. Why is it so important?  Because if you ever decide that you want to sell other items that are not in your niche, people will remember you! You build trust by showing your face behind the business.  So get a fresh cut and get it done.  If you do not have the income to get it done, trade your services with someone starting out just like you!
Back Up Your Shop
OMG, this is super important!  If you don't do this already, check out my most recent post on Etsy shutting down shops.  You need to back up ritually.
Get In Touch With Past Clients
I know, you might be thinking,"I'm not allowed to do this, Isela!" Well you are wrong.  You can totally get in touch with past clients to ask how they loved your item without solicitaion.  Not only will they think you are awesome and totally back your products, but they will feel the personalized attention.  You might even get an extra review here or there from it.
Check Out Your Competition
Yo! I know you are already doing this.  It's hard not to, but are you looking for the right things when checking out your competition? Here are 3 Things to look out for when scoping the competition.
Don't copy – Inspiration is not the same as Plagiarism.  You can imitate ways of doing things, but come up with a different way in getting the desired outcome.   If you want to be a leader in your industry, you have to do stuff no one else is doing.  When you are too busy doing what others are doing, you don't have enough time to create unique products and end up being a copycat, which nobody likes.
Learn from both their successes and their failures
Don't compare your beginning to someone else's middle.
FINAL THOUGHTS:  If your Etsy is slow, research why it is.  It can be the holidays, Etsy changes, quality, the economy, heck even the weather.   Whatever it is, come up with a solution.  If the holidays are putting your items in a slump, make a holiday related item, or sale. Give people a reason to buy out of season.
Stop blaming others or Etsy for your Etsy shop is slow, research, commit, and edit.  You can't expect your shop situation to change if you do not make any changes yourself!