Running an Etsy Shop is a lot of work. Sometimes we can get so caught up running it that we forget to give our shop the TLC that it needs. Sometimes a little attention to your Etsy Shop appearance is enough to Boost your Esty Shop sales. Let's take a look at a few things that you may have missed when setting up your Etsy Shop.
Boost your Esty Shop
The following are a list of things that I frequently update.  It lets my shop visitors know that I pay attention to the little things.  It also takes my shop out of the outdated category.
1. Update my header image
I tend to update my visual marketing often.  Yep, you read that right, Visual Marketing. Anything we purchase online whether it be from a big fancy online store, or a small Etsy Shop, we shop with our eyes first.  There are important times I believe where your header should be updated:
Your Images look outdated
Your logo has changed or your business is rebranding
You have images that are more relevant to your business
Although I recommend updating your header, I do not suggest you update it too often (like seasonal) or too crazy where it's not cohesive to our brand.  Remember that keeping your brand cohesive builds trust.
2.Link your social media accounts
You want direct visitors to know where to find you when they are not in your shop.  Linking to your Social Media is an easy way to keep your Etsy visitors connected to you and it's easy!  Simply visit Your Shop >> Shop Settings >> Info and Appearance.  There you will be able to input your social media accounts.
3. Add a shop announcement
Adding a shop announcement makes your Etsy Store appear more legit.  It's super simple to do and you can add links (although not hyperlinked) to your website or other social media accounts.
4. Add Message to buyers
This is a message that gets sent to your buyers after purchase.  You should use this as a place to offer your thanks for purchasing your items and provide shipping information like domestic and international time expectancy.
According to a Zendesk survey, 90% of participants claimed that positive online reviews influenced their buying decision.  With that said, make customer service a priority, although that won't assure you of a positive review, you do have a better chance that it will steer customers away from writing a negative one.
5. Add Shop Sections
Adding shop sections seems just like a cosmetic change to your shop but it actually serves a more important purpose.  It helps your clients find what they are looking for easier.  As a navigation does for a website, shop sections do for your shop.  There is a ton of other shops out there, so why let potential customers leave without showing them all you have to offer.  Make them short and to the point and keep them minimal.
6. Create Shop About Page
Many shops out there skip on this awesome feature.  It not only helps your loyal customers know more about you, but it also lets search engines know more about your shop.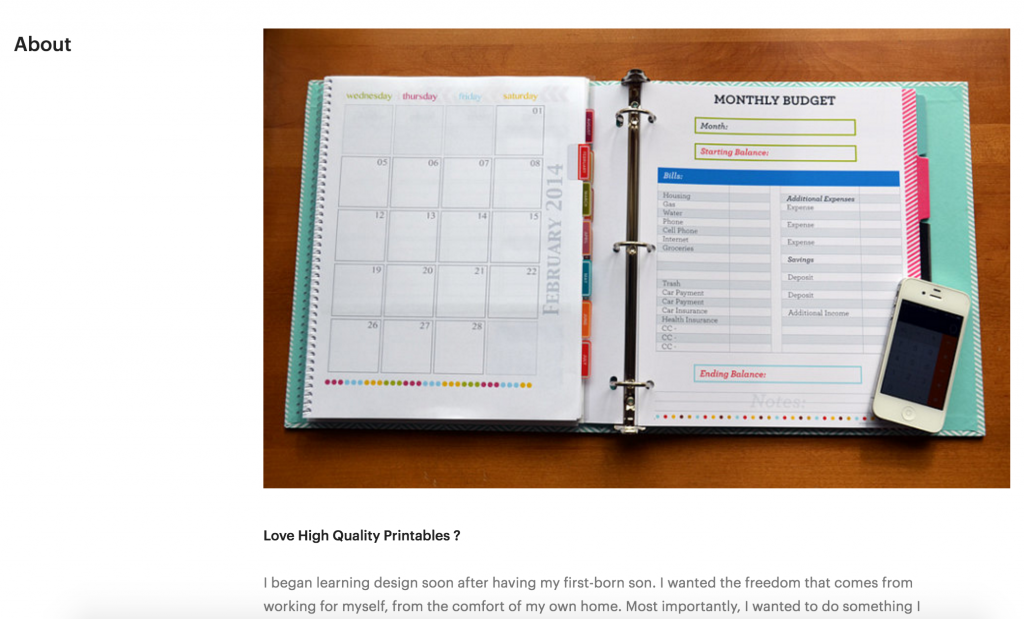 It includes a slide show with larger images that you set, as well as your featured listings and anything "about you" that you share.
7. Shop Policies
I must admit that I had skipped on my policy page.  The reason being is that usually at the end of every listing I make sure to let the customer know what they are.  For instants do you accept returns, exchanges, etc.  I have recently updated them just being thorough.
8. Featured Listings
Each Etsy shop can feature up to four listings at the top of the shop homepage, just below the Shop Announcement.  This is great for new products or products you want to showcase.
*These are not items that you pay to promote.
To set your featured listings visit : Your Shop > Quick Links > Listings Manager. Then, select Active and click the stars of the items you want to feature.
9. Promote your listings
Did you know for a few cents a day (or whatever you set) You can promote your listings to appear when someone searches for an item like yours?!  This can bring a ton of traffic to your listing.  It is a great option and I suggest you try it at least once so you can see the difference it does.
10. Check your Stats & add google analytics
Although Etsy has its own stats section where you can view where you are getting the most traffic from, I suggest you add your Etsy shop to Google Analytics.  This gives you a much more precise view on all traffic to your shop including live real-time visitors.  Here is another Etsy help article on adding Google Analytics to get you started.
---
Whether you are a new shop or a seasoned one like mine, make sure you give your shop the attention it needs and not skip out on the details.  It will help boost your shop appearance and activity and build brand recognition.  You want your customers coming back and leaving wonderful reviews and helping others find you!
What do you do to boost your Etsy shop?  I would love to hear your suggestions.