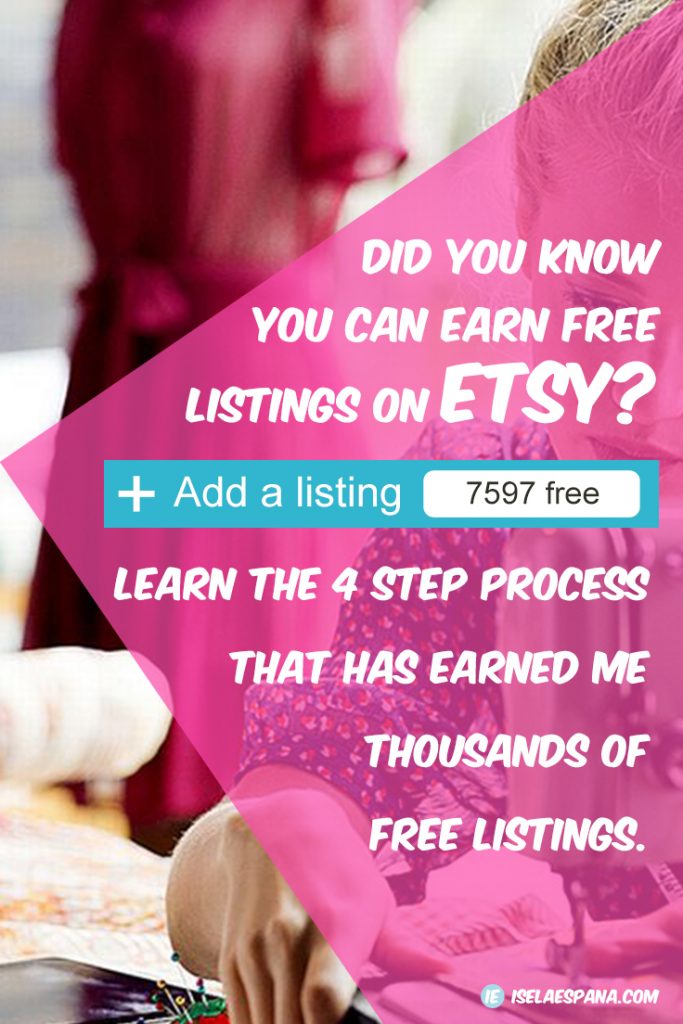 There is one question that many of you aspiring Etsy shop owners ask often.  What are the fees with starting an Etsy shop?  Everyone is saying they are high, are they? So today we are going to go over Etsy Fees + How to earn free listings.  To answer your question quickly, no, they are not high at all.
Etsy Fees
First, we are going to cover what is it that you are charged for when starting an Etsy shop.
There are 3 fees associated with opening your Etsy shop and those are, a listing fee, a transaction fee, and a payment processing fee.  If you would like to use their advertising tools then there is another fee associated with promoting your listings, but it is not a required fee.  FYI, Shipping fees will also be your responsibility as Etsy does not cover shipping of your items.
---
Listing Fee // The listing fee is always $0.20 USD for each item that you list for sale on Etsy.  If there is multiple quantities of the same item you still will pay $0.20 for each item that sells.  You will be charged a listing fee for creating or renewing a listing only.  You will be charged a listing fee whether or not the listed items sells. For more etsy fee information on multiple quantities of an item, check out this help article from Etsy.  Listings expire after four months.
Transaction Fee // When you make a sale through Etsy, you will be charged a transaction fee of 3.5% of the price you display for each listing.
Payment processing fee // If you are in the U.S. it is 3% total sale price + 0.25 USD flat fee per order. Sellers registered for Direct Checkout can accept payment by credit card, debit card, Etsy Gift Card, PayPal, some bank transfer services, and Apple Pay.  This fee is assessed on the total amount of the sale, including tax and shipping. Unlike other fees, the payment processing fee is deducted from the transaction amount as the funds become available for deposit.
---
So this is what we covered: $0.20 + 3.5% + 3% + 0.25.
Now let's do the math:
Item for sale at $10.00
subtract listing fee of $.20 = $9.80
minus transaction fee of 3.5%  of displayed listing price : 9.65 – .20 = $9.45
minus payment process fee of 3% of total sale price + flat fee : $9.45 – 0.30 -0.25 = $8.90
I will net $8.90 after all of my fees.  Now is that a lot?
To answer that question we need to go over everything we gain from selling through Etsy.
What you get for your Etsy Fees
Sell through a trusted website. I don't know bout you, but with all the cyber theft going on, I think twice when buying online from a website I know nothing about.  Etsy is a trusted site, and your buyers know that when they buy through website their credit card + personal info is safe.
Being able to get paid using credit cards + deposited directly to your account.  I don't know about you, but when I first started my Etsy shop I knew nothing about how to take payment online and get it deposited into my account.  Etsy does all the tricky stuff for you.  You just need to provide your bank info and they take payment, and deposit into your account, at the end of the month you have the ability to pay your fees through your shops earnings, or whatever other method you like.
Get tons of free traffic. If you were to start a website and put your stuff to sell right off the bat, how would you drive traffic to your site?  If you are starting out, this is a whole other ball game to master.  The trick to getting ahead, is to get started.  Open up your shop, and list your items for sell, Etsy does the rest.  Of course, there are tricks to get more traffic to your Etsy Shop, but I assure you will get views  as soon as your item is listed for sale without having to do any promotion.
Ability to offer automatic digital downloads, making the business completely passive.  Do you have artwork or prints for sale?  You have the ability to upload your item to Etsy and they handle sending your item to the buyer digitally once their payment has cleared.  How awesome is that?  I make thousands a month setting up items for sale on my shop as digital downloads.  All I have to worry about is marketing and restocking low items, this takes me a couple hours a week, that's right 2 hours a week, and I make thousands.
Have the ability to start a business without the added cost of starting a website.  Most other methods of selling items online require you to have a website.  Although I do agree that you should definitely sell on your own website once you have grown and have the ability to afford a well thought out website, you most definitely don't need to start with one.  Etsy's shop interface makes your craft into a legit business.  You can tweak your design to fit your aesthetic, and add a website to your arsenal later.
Collects Reviews.  You also build clientele by collecting reviews for your items.  Reviews have a huge impact on your sales, so rack them in as soon as you can!
How to earn free listings
Now that we have covered all the fees and what you get in return, I want to go over how you can earn free Etsy listings.  That is .20 cents off each sale, which totally adds up at the end of the month.
Super easy right?
If you love this tip share it!  Don't want to miss out on any new Etsy tips?
Sign up below and get tips straight into your mailbox plus access to my private resources for Etsy shop owners, like worksheets and checklists.