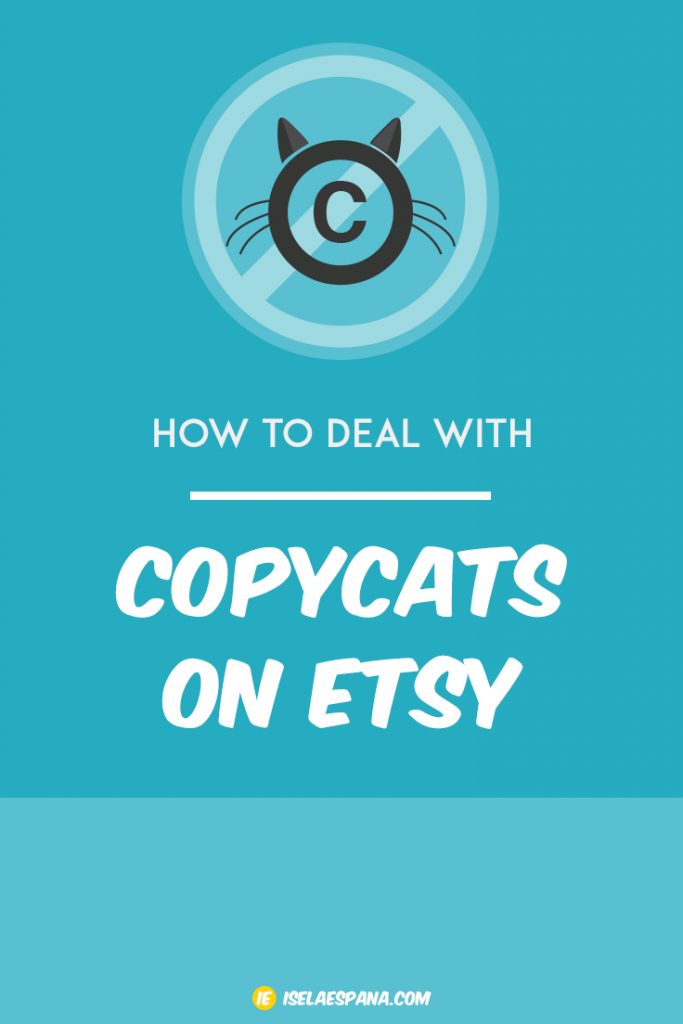 How to deal with Copycats on Etsy
You know you are doing something right if you're are being copied.  Well, at least that's what I have been told.  I can't help but get this horrible, icky feeling in the pit of my stomach whenever I see someone blatantly stealing someone else's hard work.  All the time and effort you put into creating a product is quickly and easily copied.  Of course it's not fair, but we still have to learn How to deal with Copycats on Etsy.
ARE YOU REALLY BEING COPIED?
Before going over what to do when you are being copied on Etsy, ask yourself, "Are you really being copied?"
There is a fine line when it comes to work being copied.  If something is a complete replica, or someone is using your images, then there is no room for error, but when someone improves an Item you create and sells them as their own, it is not being copied.
Here, let me give you an example.  Steve Jobs.  Many of us have come to know him as the genius who created Apple, but he actually took something that was already there and turned it into something much cooler.
Chances are that your items on Etsy are not really being innovative.  You had to have come up with the idea from somewhere.  After all, this is why there is competition on Etsy.  You see something online, you like it, you recreate your interpretation of it.  So before going crazy and start flagging shops on Etsy, remember to ask yourself if you are really being copied.
Keep Creating – Set The Bar High
Here is the best way in dealing with copycats, ignore them.  Unless the copying is affecting your business negatively, where you need to get legal entities involved, ignoring them will be your best solution.  Most of us on Etsy are not looking to take the costly "lawyer Route," so here are some benefits in ignoring the copycats on Etsy:
  You don't waste time.  Let's face it. Checking in on the copycats take up quite a bit of time and energy.  When you focus on your business, you keep the negative thoughts out of your head and leave room for creative ideas to come in.
  You will stay ahead of the competition. Don't look back.  They will always be behind you if you focus on your own business.  Keep creating your products, keep them high quality, offer exceptional customer service, and even deliver a personal note.  Make it clear that their product is the cheaper imitation.
  You will build trust.  Building trust helps your online business in many ways.  Your loyal customers will call out the copycats on social media and so on, without you needing to say anything.  When you spend time talking about the cheaper version of your item, you are putting them in the spotlight, second, you make yourself sound unprofessional, and third you make it seem as if you are worried your product is not good enough.
  You won't spend hard earned money.  Etsy fees are really low.  Is it really worth it to you to get legal council involved?
Be careful who you trust with your ideas
Sometimes it might seem auspicious to post about an idea you have on social media.  Although you can get feedback on your item, sometimes the copycats stroll in and steal your idea before you put yours up for sale.  Be careful where you share your thoughts.  Most often it is better to make friends online with a few people who do not directly sell the same items as you do and offer each other constructive criticism.
They Are Getting Away With Stealing
Many of you will argue that by letting it go, we are just letting them get away with it.  While it may be true to some extent, I can guarantee you that they will not get as far as they could go by copying others work.  Much like Forever 21 is known for their cheaper imitations for high-end clothing, most people who buy there cannot afford the alternative.
What does that mean for you?  Well, it means that the buyer for the cheaper version of your product was probably never going to be your buyer anyways.  If you still feal uneasy, rest assure you are not alone.  So many people on Etsy get copied. I too have gotten copied.  I have actually had people ask me if I can unlock my PDF digital downloads so they can change my product.  Copiers most often feel no shame. So here is the deal, if you got the proof to back everything up and you have the time, report them.  Someone has to eventually.  If it is important to you, then do it.
Take Action
Ok, that was my best effort to keep you out of the drama that comes with creating a product for sell and being copied.  Now let's move on to taking action when you see fit.  If you decide to contact the offender directly, do not offend them.  Send them a respectful letter informing them that you are aware of their products and the fact that they are a direct copy of yours.  Also, let them know that you understand that they might not be aware of what they are doing and the implications of being reported on Etsy.  Send them a link to the Etsy Intellectual Policy page on Etsy so they can better educate themselves and give them X amount of time to get the item taken down.
If they do not take your suggestions into consideration. Go ahead and  report the infringement against the offender. Remember, Allegations of infringement can have serious consequences for everyone involved.  If you do decide to report the infringement to Etsy be ready to provide proof of the copyrighted material and your rights of ownership.  Make sure to read up on what is considered copyrighted on Etsy before getting started.
 Unfortunately, Copycats are always going to be there.  How do you handle copycats on Etsy?